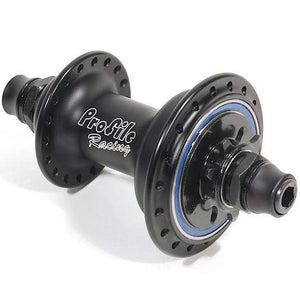 Profile
Profile Z Coaster Freecoaster Female Hub
Sale price Price £344.49 Regular price £384.99
ALL FEMALE ZCOASTERS REQUIRE A SLACK RING AND FEMALE BOLTS TO BE ADDED TO YOUR ORDER. WE WILL NOT SUPPLY THE HUB WITHOUT THESE BEING ADDED TO THE BASKET.
ADD SLACK RING TO COMPLETE HUB ORDER
ADD FEMALE BOLTS TO COMPLETE HUB ORDER
TOTAL Cost is £224.45 (Price with slack ring and bolts)
TOTAL Retail is £384.99 (Price with slack ring and bolts)
Hand Made in the USA! The Z-coaster has been designed from the ground up by Profile to be the most versatile and reliable Freecoaster hub. The hub can be used as either a Freecoaster or regular cassette hub bu simply switching the Slack-Cam ring inside the hub. The Shell is machined from 6061 aluminium and features a Crmo centre female axle with choice of 10mm or 14mm bolts. The Z coaster features a unique Driver which uses Z shape pawls which allows for adjustment from 1/8 of a crank to 1/3 of a crank by changing the Slack Cam ring. The driver is also supported from the outside by a huge bearing making this hub ultra reliable and maintenance free. Finished in super deep anodised colours.
###section###
Product Specs
HUB TYPE: Cassette / Coaster Switchable
AXLE: Female Bolts
DRIVER: Choose In Basket
SPOKE HOLES: 36h
WEIGHT: 560g (1.23lbs)